ArgentinaConnect 2018
September 19, 2018 @ 6:30 pm

-

8:30 pm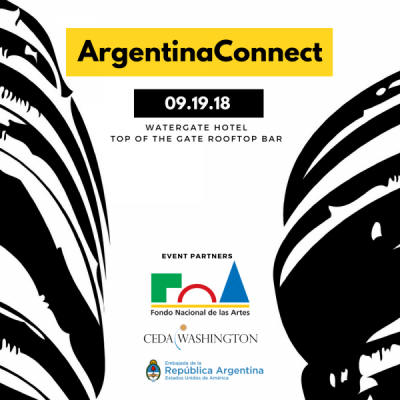 CEDA Washington and the Embassy of Argentina are hosting the next ArgentinaConnect on September 19, 2018 at the Watergate Hotel | Top of the Gate Rooftop Bar.
Meet diplomats, artists, journalists, scientists, economists and other remarkable professionals at this happy hour event to benefit the Argentina Endowment for the Arts: Arts and Social Change Initiative – AYTS (FNA – Fondo Nacional de las Artes).
Our Event Chair Mercedes de Campos, wife of the Ambassador of Argentina and expert in non- profit organization's development, welcomes our Guest of Honor, Carolina Biquard, president of the Argentina National Endowment for the Arts.
Art and Social Transformation grants from FNA are awarded to creative leaders using art as a tool for social change, improving the quality of life of vulnerable communities. CEDA has partnered with FNA to be one of the grantors of thus initiative.
The Argentina National Endowment for the Arts (FNA) — Do You Know?
The FNA was created in 1958, 7 years before the National Endowment for the Arts of the United States.
One of the greatest authors of the 20th Century, Jorge Luis Borges, received an award from the FNA.
In 1960 FNA granted a fellowship to World-renown painter Marta Minujin, as one of thirty young Argentinian artists taking part to an exhibition in Paris, launching her career.
In 1964 María Elena Walsh, Argentine poet and author known for her children's songs and books, received a loan from FNA to travel to Europe.
The FNA funds artistic and cultural initiatives that have an impact on the communities.
The Watergate Hotel's Top of the Gate Rooftop Bar
Voted the second best rooftop bar in U.S. by Conde Nast Traveler! The notorious, Nixon-era Watergate Hotel offers the perfect ambiance for an incredible evening while doling out views over the Potomac and the D.C. skyline.
For sponsorship opportunities contact CEDA Washington at cedawashington@gmail.com.