End-of-Year Brindis 2019
December 3, 2019 @ 6:00 pm

-

8:00 pm

Free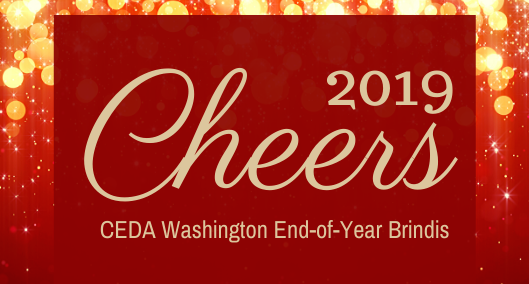 We celebrated with members, friends, and sponsors another year of achievements supporting education and health projects in vulnerable communities in Argentina. With over 150 attendees, it was an opportunity to bid farewell to the year 2019!
During the evening we've recognized those who help us, help others. We are deeply thankful.
CEDA Honorary President, Mercedes De Campos — Mercedes has a life-long passion for helping charities and other institutions bring their mission forward. Mercedes has been for CEDA an incredible mentor and supporter. Her leadership has been invaluable but, mostly, we are deeply grateful for her openness, welcoming and desire to see us do well, and more than that, do excellent. She has raised the bar for our board, she inspired us to dream big and do big. Likewise, Ambassador Fernando Oris the Roa has been an incredible believer and supporter of CEDA. We have no words to thank you, Mercedes. We will miss you both dearly but we will keep your teachings alive.
Embassy of Argentina, Chief of Mission, Gerardo Diaz Bartolome (aka Gerry) — Gerry has been instrumental for CEDA for his openness, inclusion and his drive to do more and reach further. His positive and creative thinking has kept us moving forward and growing. Gerry identified the need to offer the Spanish classes, for example, and to build a strategic partnership with CEDA for that. We are extremely grateful to you, Gerry, for welcoming us the way you've done it.
And to all CEDA Argentine-American business partners:
Dolcezza Gelato, Violeta Edelman — Violeta and her husband Rob funded Dolcezza in 2004. Today, they are a signature gelato place in DC, going nationally too. Thank you Violeta for your support!
Empanadas de Mendoza, Gabriela Steelman — Gabriela, originally from Mendoza, and with her husband Tyler, they make the yummiest and juiciest beef empanadas in DC. If you haven't tried them, you are missing and experience.
Pampa Fox – Lucia Virasoro-Bruno and Jorge Bruno — Many of you are already familiar with Lucia and Jorge Bruno's catering service. They are highly recognized in the area for their excellence both, in products and services. Lucia and Jorge have been long term supporters of CEDA.
Sweet San Isidro, Mirta Romero — Mirta and her daughter Ludmila Villarroel have grown to be the best home-made alfajores on the DC Metro area. If you go to a Dolcezza store for coffee, make sure you get an alfajor too. Thank you so much for your support!
Bonsai Fine Arts, Scott Pittman — Bonsai's team worked with our Board member, Gaby Mizes, to re-condition, check and organize the Embassy's art collection. Also, they generously donated the pedestal where Marta Minujin's "Apocalypse Venus" is displayed on the upper floor. Thank you for donating their time and labor.
Before and during this event, we've received many donations to provide three commercial-grade kitchen stoves for the following charitable organizations whose mission is to shelter, feed, and educate underserved mothers and children. Thank you to everyone!
Biblioteca Palabras del Alma in San Pedro, Misiones
Hogar de Niñas San José in Olavarría, Buenos Aires
Hogar Amparo Maternal

in CABA
The winner of the raffle was Mark Joyce. Photo Credits: Carolina Correa-Caro / @veronik_bandw