Your Summer Vegetable Garden (Online Workshop)
April 24 @ 3:00 pm

-

4:30 pm

$40 – $100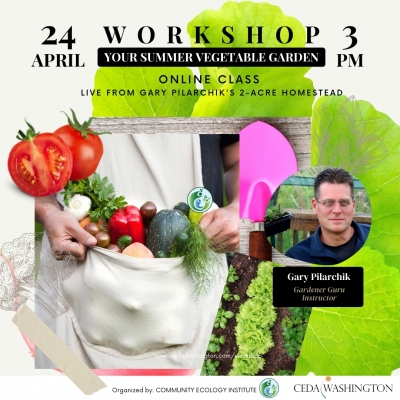 Grow your own food, improve your health!
Developing meaningful connections with nature enhances personal, social, and ecological well-being, especially in these challenging times. Spring is here, let's connect with the energy of the earth and see our garden grow.
The Fun:
Growing food is very simple and fun, you can do this! Gardener guru Gary Pilarchik will guide us through step-by-step to accomplish generous vegetable garden this Summer. He will be live from his 2-acre vegetable garden. The workshop consists of 1 hour of training and 30 min of Q&A with Gary. Please note that the recordings of the event will be available for you to rewatch as many times as you need while working on your veggie patch at home.
Gary is the author of The Modern Homestead Garden: Growing Self-sufficiency in Any Size Backyard. He hosts a YouTube channel, The Rusted Garden, with almost half a million dedicated subscribers, and started a second channel, My First Vegetable Garden. Gary is a board member of CEI, a MD non-profit organization reconnecting people to the natural world.
The Cause:
As always, CEDA is focused on helping people in need in Argentina. Now more than ever, poverty is hitting communities, especially remote places in Salta, where people are struggling with extreme conditions. CEDA partnered with Fundación Pueblos Nativos, working with these high-altitude communities to build greenhouses which enable vegetable cultivation that would otherwise be impossible to grow in the existing climate, and that is vital for a healthy nutrition. Read more about the Andean Vegetable Greenhouses – Quebrada del Toro (Salta) project.
By participating of this webinar, you are contributing to this valuable project. You actually take action to change these lives. Please, consider the importance of participating and if you are not able to join this Summer Garden fun project, you could also donate to this cause and still be a part of the change. We need you!
Workshop Moderator:
Veronica Adler, Fundraising and Community Engagement at CEI. Veronica will be assisting participants with Spanish questions. Veronica is an environmentalist, artist, and musician who is excited to be a part of an organization bringing nature, sustainability, and art to her community.
CO-ORGANIZED:
Community Ecology Institute (CEI)
A non-profit organization reconnecting people to the natural world through its 6.4 acre Freetown Farm in Howard County (Maryland). Its mission is fostering socially and ecologically healthy communities through programs, resources, and research that help to strengthen the connection between all people and the natural environment.
CEI Website: www.communityecologyinstitute.org
Gary's YouTube Channels:
The Rusted Garden (+490K followers)
My First Vegetable Garden (almost 100K followers)
Gary's Book:
The Modern Homestead Garden: Growing Self-sufficiency in Any Size Backyard
Available in Amazon