CEDA is an all-volunteer, Argentine organization in the United States, with more than 50 years of continuous work, financing education and health projects in low-income communities in Argentina. It is registered as a 501(c)(3) charitable NGO in Washington, DC.
CEDA creates social and cultural capital by facilitating collective action for the common good:
Since it was founded in December 1968, CEDA has financed more than 500 projects in health and education, reaching almost 2 million Argentine children and their families. In 1969, CEDA founded the Escuela Argentina in Washington, DC. Currently, the school, located in Potomac, MD, has more than 450 students. Currently, the Escuela Argentina and CEDA Washington operate independently and are two fundamental pillars of the Argentine community in Washington.
Every year, CEDA finances its projects through Membership, Fundraising Events, Donations from individuals and corporations, and revenue from Services (Spanish Classes and an online shop selling art photography from the American Museum of the Arts of the OAS).
IMPORTANT: Membership and donations are 100% tax deductible. EIN (Employer Identification Number): 23-7042214
On December 5, 1968, in Washington DC, a group of Argentine women resolved to join efforts to provide support to the neediest in our country. This is how CEDA was founded, to help schools and hospitals in the most vulnerable areas of Argentina. Subsequently, it founded the Escuela Argentina (on September 20, 1969) to help residents of the area preserve our language and our culture, managing it for more than 30 years.
CEDA now makes impactful connections between programs, people and institutions in Argentina and the United States with the support of the Embassy of Argentina –from a civil and non-partisan position– in the efforts aimed at the development of our country.
WE BELIEVE EVERYONE DESERVES QUALITY EDUCATION AND HEALTH.
Financing education and health projects to assist people in poverty in Argentina.
WE MAKE AN IMPACT.
To be the organization by which the Argentine community of the United States of America participates in helping children and families in the most deprived areas of Argentina.
WE LISTEN. WE ADVISE. WE SUPPORT.
CEDA seeks and builds relationships with Argentine difference-makers and NGOs who are making a difference in vulnerable communities. By finding those who are already creating change, we are deepening impact instead of duplicating it.
CEDA finances its projects through
Liana was born in La Pampa and lives in Chevy Chase, Maryland. She came to the US in 1996 on a research grant from the US Department of Transportation. Liana graduated from the Executive Program of International Business Management at Georgetown University. Liana founded Elemx Group, a transportation and technology transfer project consultancy associated with the University of Maryland. Currently, she is CEO of Elemx Group and works with clients from the federal government and academia in the US. Liana has served on different Boards of Directors of civil society organizations with a philanthropic focus in Washington, DC.
Maria was born in Buenos Aires. She is a director, producer and theater administrator, graduated from the Argentinean National Conservatory of Drama. Her professional training was at the Royal Opera House in London. For ten years she served at the Technical Direction of Teatro Colón Opera House, in Buenos Aires. Moving to the US, she was in charge of the Plácido Domingo's program for Young Artists at the Washington National Opera-Kennedy Center. During her leadership, she established partnerships with La Scala in Milan, the Bolshoi Theater in Moscow, and organized concerts at the Reigngold Theater in Beijing, the White House, the United States Congress, Smithsonian Institution, Shakespeare Theater, Kennedy Center and Embassies, among other institutions. Maria is a member of the Executive Board of Directors of CEDA Washington Since 2016.
She was born in Villa Ángela, Chaco, and has been living in the United States since 2010. After graduating in Buenos Aires, she moved to the UK to continue her post-graduate studies, first in translation and then in applied linguistics. She currently works in the Spanish Program at the George Washington University and co-authored the textbook Gente, widely used among top-ranked university programs in the United States. Prior to working in academia, Carola was the Learning Manager for Romance Languages at one of Europe's largest culture and communications skills consultancies and, as such, she was in charge of recruitment and training of instructors, as well as curriculum design and implementation at the European Parliament and Commission in Brussels.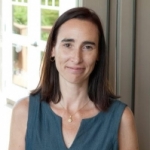 Titina was born in Villa María, Córdoba and she has lived in the United States since 1967. Titina was president of CEDA for two periods. She has a Master's in Linguistics from the University of Michigan, Ann Arbor, and she is a professor of Language Arts, Literature, and Latin. She served as head of the Department of Languages ​​at Immaculata College Preparatory School, head of the Department of Romance Languages ​​at Crowell Collier and McMillan Language School, and was a Spanish teacher at different institutions. She is part of the CEDA History group, which is currently organizing the memories of CEDA in the year of the organization's fiftieth anniversary. She is also a painter of watercolors and oil, and has held various group exhibitions in the area.
Mariana was born in the Buenos Aires, Argentina, and has been based in the United States since 1994. She has a Master's degree in Communication from the University of South Florida and a degree in Journalism from the University of Mississippi, for which she obtained an academic and sports scholarship. She works as Senior Manager at ICF Next, a global communication and marketing consultancy, where he provides consulting services in communication, marketing and public relations to clients of the United States federal and corporate government. Previously, she served as Director of Multicultural Marketing at the national office of the American Diabetes Association, and was Director of Accounts at Ogilvy Public Relations.
Betina was born in Buenos Aires and she has lived in the United States since 1973. Betina is a pediatrician from Howard University in Washington, DC. She made a visiting rotation in General Pediatrics at the Juan Garrahan Children's Hospital, in the City of Buenos Aires. She works as an Emergency Pediatrician in Annapolis. She did residency and worked as a clinic and teacher at the Children's Hospital in Washington, DC for 10 years. She also collaborated as a volunteer at the Upper Cardozo Clinic and at the Children's Clinic in Anacostia. In 2010, after the earthquake that struck Haiti, she traveled as a volunteer to assist in the medical care of those affected. Additionally, he performed legal aid work for low-income Latino tenants in Washington, DC, and investigated the medical consequences of asbestos exposure.
Laura was born in Santa Fe and lives in Arlington, VA. Laura is an IT professional graduated from Marymount University with a B.S. in Information Technology with a Health Information Technology concentration. She is pursuing her Master in Information Technology with Data Science track while completing a Graduate Certificate in Cybersecurity. Prior to starting her master's degree, she served as Market Research/Business Analyst for a science and technology consulting firm in McLean, VA. Currently, she is a Graduate Assistant for the Technology and Cybersecurity Department at Marymount University.